Marcus Freeman said Friday night at the Notre Dame hockey game that this week has been a whirlwind for him. How could it not have been?
The 35-year-old defensive coordinator saw the man who brought him onto the staff in South Bend, Brian Kelly, leave to become the head coach at LSU on Tuesday. Wednesday, reports surfaced Freeman would replace Kelly as Notre Dame's head coach. Friday morning, that reality became official.
A mere 24 hours or so later, Freeman joined the hosts of ESPN's College GameDay for a short interview. This is everything Freeman said on the show.
On the viral video of Freeman embracing Notre Dame players for the first time as their head coach
"It was a surreal moment. It seemed like hours waiting to be able to go embrace the team. It was just good to finally go out there and hug them and be around the guys and make sure they knew we were in this thing together."
On the next 24 hours waiting for a decision from the College Football Playoff committee 
"As I said to them yesterday, the whole narrative right now is, 'future, future. You're the head coach of the future.' My focus is right now. My focus is this team. My focus is this coaching staff and this football program.
"All of our efforts, all of our intentions are on finishing off this season the right way. Everything we have to do is making sure we send these seniors and this group of guys out with a victory and in the right way."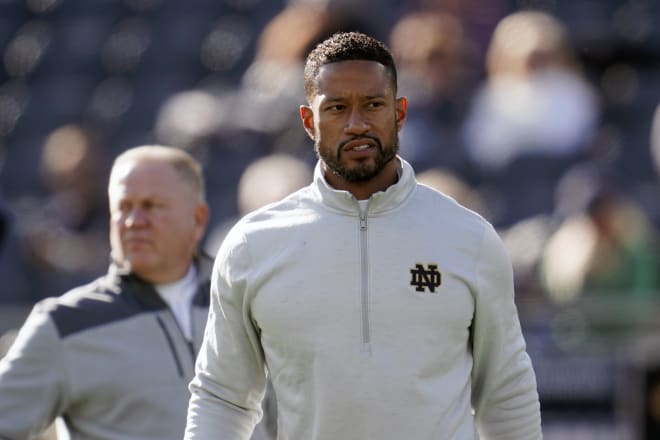 On his coaching mentors throughout his career 
"I think it starts with my college football coach being Jim Tressel. Coach Tressel was an unbelievable leader, an unbelievable mentor for me as a young person. I went to Purdue and Kent State with Darrell Hazel. That had a huge impact. And then the last four years being with Luke Fickell. Luke Fickell was my college football position coach and also the head coach at Cincinnati when I was there the past four years.
"Every one of those coaches have had a huge impact on me and who I am. I take bits and pieces of all of them. But at the end of the day you've got to be who you are and embrace who you are. I'm going to lead the way I am."
On retaining most of the current Notre Dame coaching staff 
"It was so important. There is a reason why we won 11 games this year. It isn't because of anything other than the camaraderie we have on the team, the leadership we have. For me to come in and say I'm going to change things, that's crazy. I told the administration I want to keep things as steady as I can. I want to make sure as many people who have helped get us to this point stay here and that we can keep the same cycle going. Now the challenge is going to be to enhance what we do. Now it's going to be about taking this team to the next level. I'm excited for that challenge."