Half-time advertisement. Moving the Goalposts is the Guardian's brilliant new women's football newsletter. It's free, so what are you waiting for? Sign up now!
HALF TIME: Real Madrid 0-0 Manchester City (agg 3-4)
De Bruyne's shot is deflected out for a corner. One corner leads to another, and then the half-time whistle goes. Carvajal, Nacho and Militao surround the referee and complain about something, it's really not clear what. Vinicius seems fairly annoyed, too, and is advised to pipe down by his countryman Fernandinho. Everyone eventually takes their leave, and as things stand, it's City who'll be facing Liverpool in Paris on May 28.
45 min: Mendy crosses from the left. Valverde tries to win a header at the far stick, but Laporte eyebrows out for a corner … that Real aren't awarded! There will be two bonus minutes before the break.
43 min: Suddenly Benzema tears clear down the left! He strides into the box, opens his body, and … sends a riser over the bar. Wild. His blushes are spared when the flag goes up belatedly for offside. He was well off.
42 min: Vinicius is Real's chief point of attack right now. This time he tries to take on Mahrez, but can't get past his man.
40 min: Vinicius nearly breaks into the City box on the left, but is denied by a sensational sliding Walker tackle. Nothing comes of the corner. Vinicius v Walker is turning into a great contest.
39 min: Foden chests and volleys, smacking a speculative one goalwards from distance. Courtois does well to get down and save, the surprise shot heading towards the bottom left.
37 min: Modric shovels a pass down the middle and very nearly springs Vinicius through the middle. Walker eases him off the ball, leaning on him slightly from behind, Vinicius falling to the floor. The home fans want a red card – Walker was the last man – but they're not getting one, as play is waved on. It would have been a very soft dismissal, though you've seen them given by less laissez-faire referees.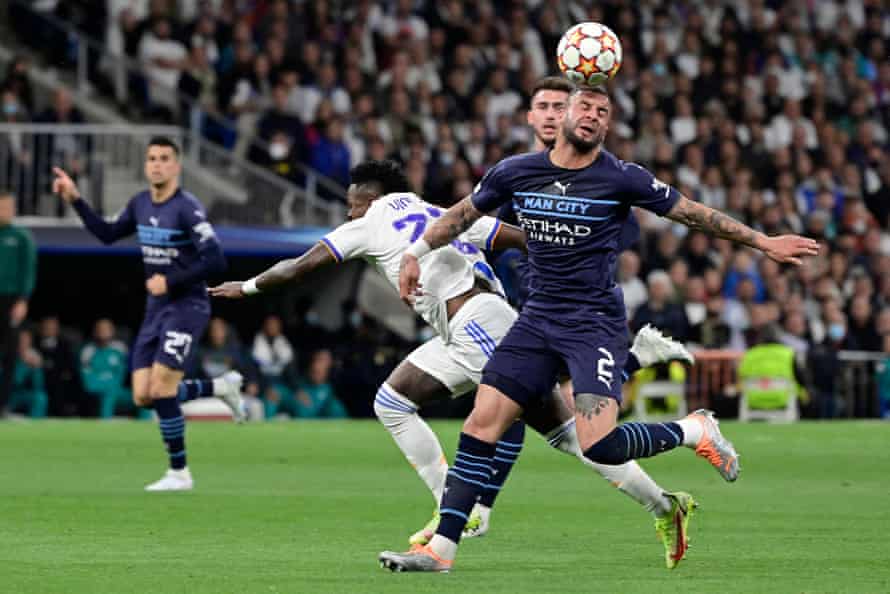 36 min: This is all a bit scrappy. A week is a long time in football all right.
34 min: That's Casemiro's second egregious challenge of the evening – remember his scissor tackle on De Bruyne – and he really should be bathing now. But here we are.
32 min: Casemiro hauls back Foden by the scruff of the neck. That's an absurd challenge, and should be a yellow card, but the Real midfielder escapes sanction because the ref waves an advantage, then forgets about what happened when the move breaks down.
30 min: Valverde has the opportunity to send Vinicius clear down the middle, but his attempt at a slide-rule defence splitter is no good. City's defence certainly doesn't look impregnable.
28 min: Kroos sends the corner into the mixer. Militao goes up for a header but clatters into Walker, who needs the once-over from the physio. After a splash of water, the City right back is good to continue.
27 min: Kroos curls the free kick towards the top left. The ball nicks off Mahrez and out for a corner.
26 min: … so having said that, Real advance upfield for the first time in a while, Vinicius cutting in from the left and going over Rodri's leg. Free kick in a dangerous position, just to the left of the City D.
25 min: Real can't retain possession, and can't get out of their final third. Now it's Carlo Ancelotti's turn to say his piece on the touchline.
23 min: De Bruyne lays off to Jesus, just to the right of the D. Jesus whips hard for the top right. Just off target. Had that been in the corner, Courtois wasn't getting there. City are beginning to get on top.
22 min: Walker makes good down the right but lumps his cross out of play on the other wing. Pep continues to rant and rave, but this time in the comfort of his seat in the dugout.
21 min: A mistake by Militao allows Silva to enter the Real box down the inside-right channel. Silva creams a shot from a tight angle towards the top right. Courtois parries around the post for a corner that leads to nothing. The first serious hand-warmer of the match.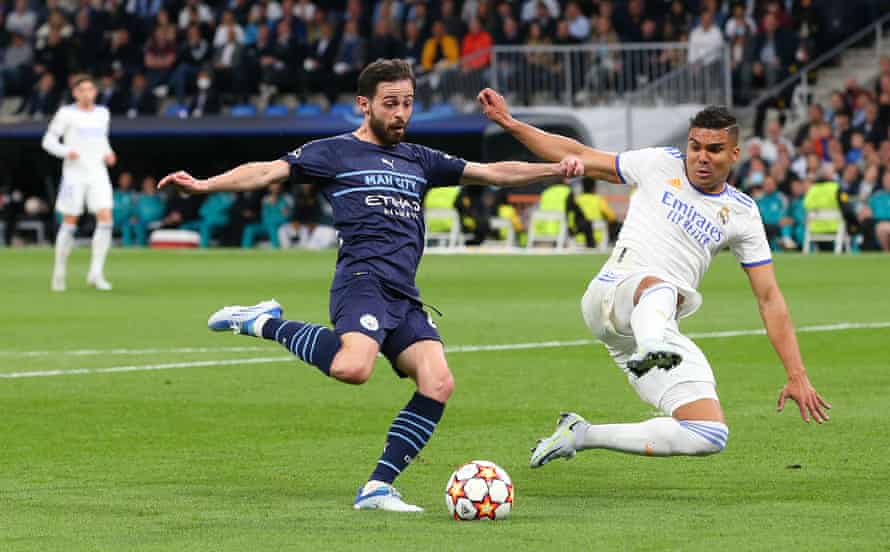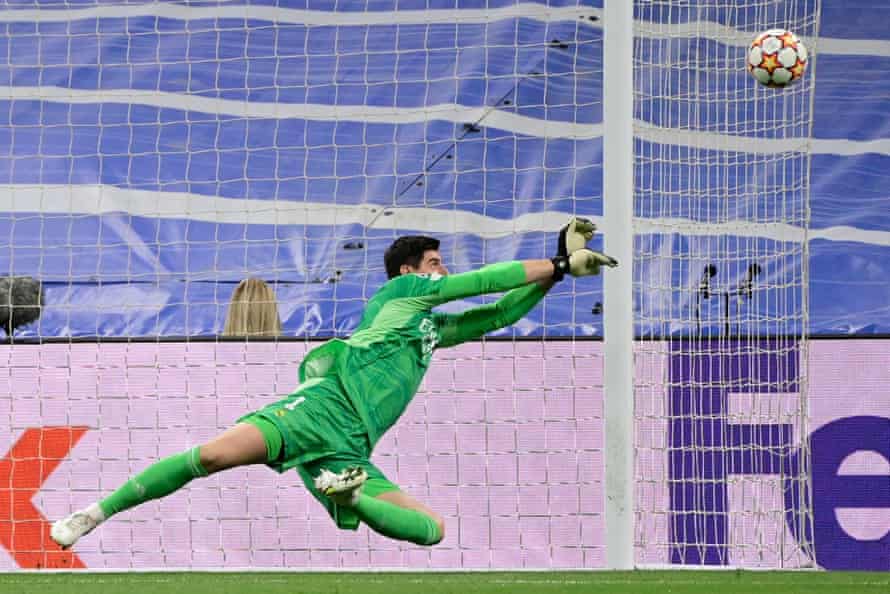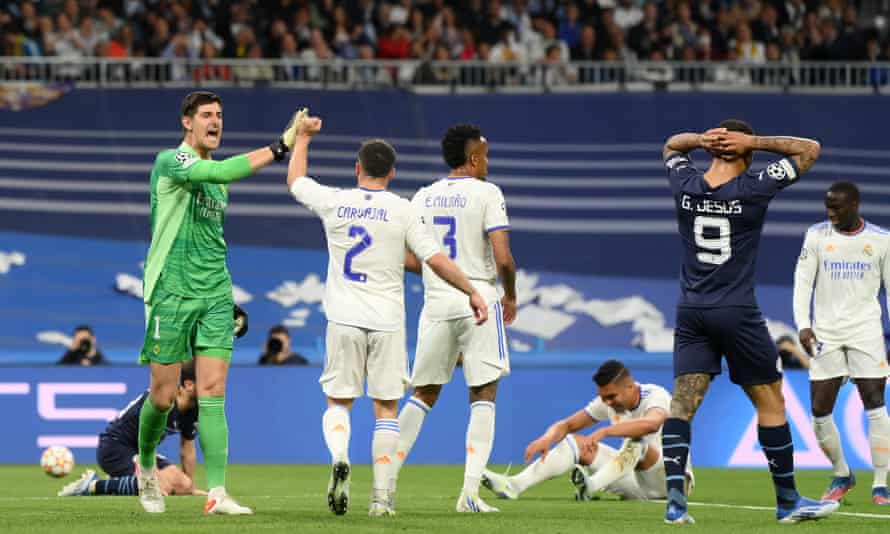 19 min: Pep looks a little agitated on the touchline, like that's breaking news.
18 min: Kroos hoicks a free kick long. The ball nearly breaks to Valverde, then Benzema, on the edge of the City box. It instead loops left to Vinicius, sitting up nicely as he races into the box from the wing. Vinicius skelps his shot high over the bar. Another good, if not gilt-edged, chance for Madrid.
17 min: More City possession. The home fans don't like it.
15 min: De Bruyne pearls a long-distance shot towards the top right. Courtois is behind it all the way. Real counter through Vinicius down the left. Walker catches him up, but the striker checks and nearly finds Benzema with a pass rolled across the front of the City box. Cancelo reads the danger and intercepts.
14 min: More whistling as City enjoy a bit of sterile possession in midfield. Hey, it's not City who have to score.
12 min: Another half chance for Benzema, who lashes a low right-wing cross by Valverde over the bar from 12 yards. Ederson takes an age over the restart, Jordan Pickford style, disapproving whistles ringing in his lugs.
11 min: One of City's centre backs now has to walk the disciplinary tightrope for at least 80 minutes.
9 min: Mahrez's delivery of the resulting free kick is no good. Courtois claims.
8 min: Casemiro tackles De Bruyne from behind. A scissor action, and he's fortunate not to go into the book. Modric and Laporte do, though, as they engage in a bout of shoving. Laporte really pushed his luck there, catching Modric in the face with his hand. A fussier referee might have flashed a red, though there wasn't too much in it. Modric pushed him over afterwards, too, so Real don't complain too much.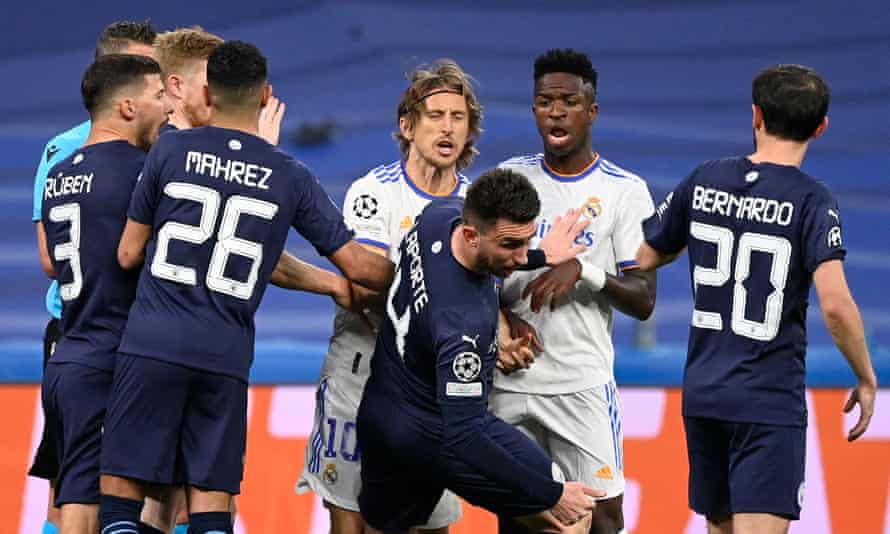 6 min: Ederson is very nearly closed down by Vinicius, taking an absolute age to clear with the ball at his feet. Vinicius was inches away from embarrassing the keeper. Did Zack Steffen teach us nothing?
5 min: Silva nearly bursts into the Real box through the middle, but he's adjudged (correctly) to have used an arm mid-dribble. This game is already being played at 101 miles per hour.
4 min: Carvajal curls in from the right. Benzema rises highest, and he's in acres of space on the penalty spot, but he uncharacteristically misses the target with his header by a big margin. The flag pops up for offside, in any case.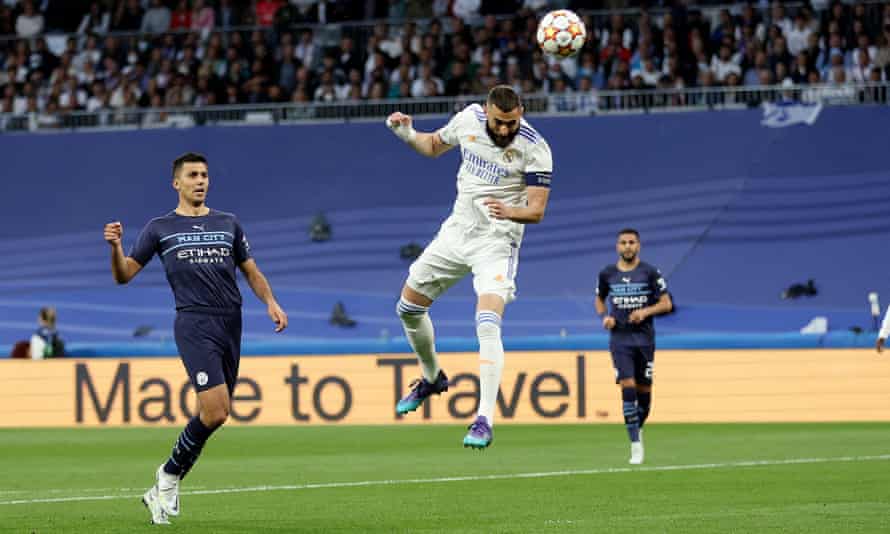 3 min: Cancelo drops a shoulder to stride away from Carvajal down the left, and wins the first corner of the match off Militao. Foden takes it long. A game of head tennis breaks out before Real clear their lines. Both teams have already stated their intent, then.
2 min: Kroos flicks the free kick to the near stick, where Rodri reacts first to clear. "The Godfather II was even better," recalls Justin Kavanagh. "Here's hoping."
1 min: Vinicius Junior goes on a run down the left and is shoved in the back by Mahrez. A free kick right by the corner flag.
Manchester City get the ball rolling. We'll find out who faces Liverpool in Paris on Saturday 28 May soon enough!
The teams are out! Real wear their famous merengue white, while City sport that dark-blue MAN CITY third-kit monstrosity, an affront to one of the loveliest club crests there is. A rare old atmosphere at the Estadio Santiago Bernabéu; they know how to host a European night around here all right. We'll be off after the swapping of pennants, shaking of hands, and playing of Zadok the Priest (Version). Not long now!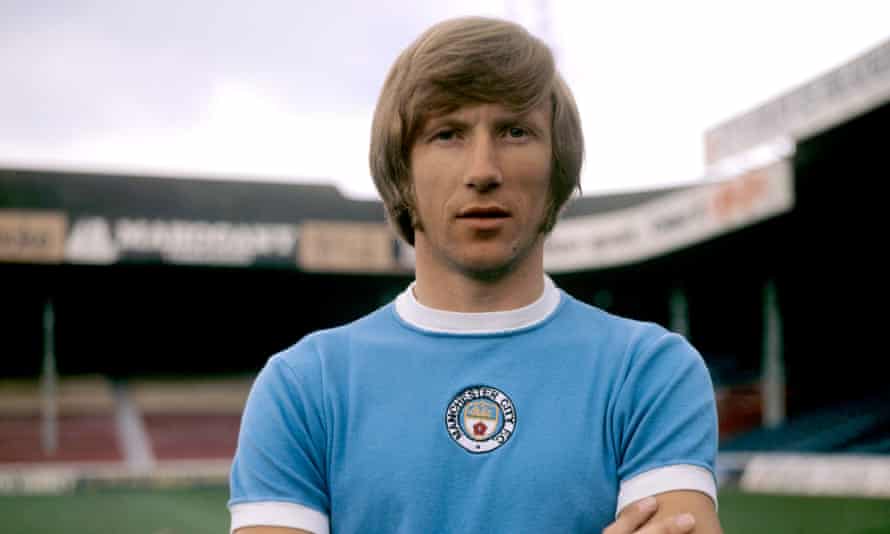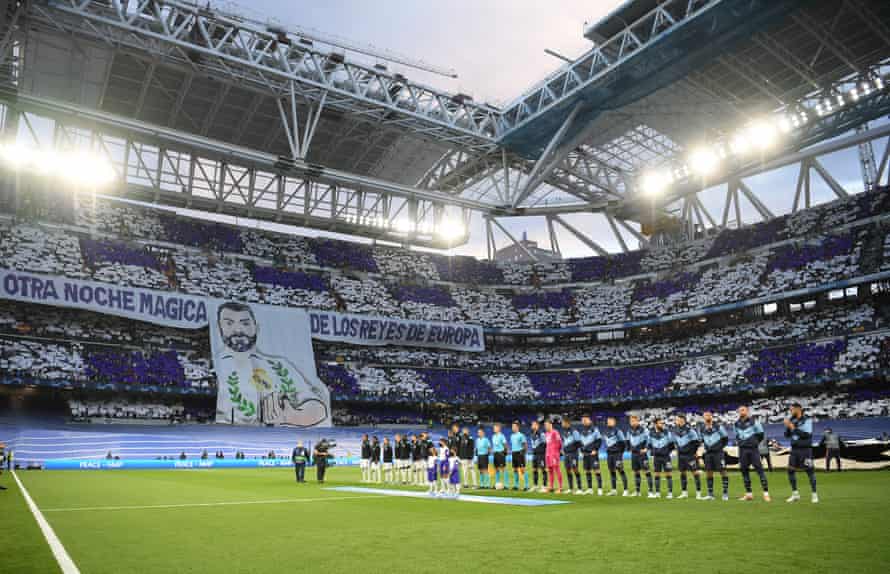 Pep Guardiola talks to BT Sport. "It will be different. There will be moments to defend, transitions, an open game. Kyle Walker trained, we spoke yesterday, and he said 'I am ready'. Of course he is an important player for us. I am not a guy who likes to risk, but there are moments of the season you have to risk, and this is one of them."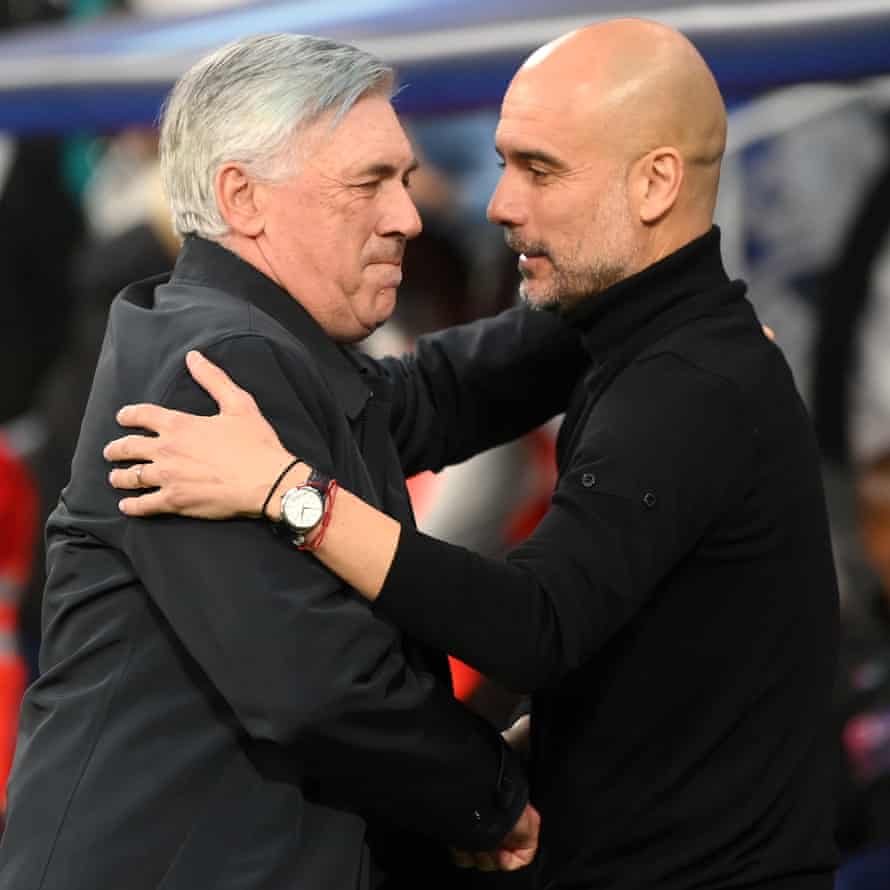 Pre-match prediction. It's going to be a magical night for Real Madrid, according to this sheet of A3 paper spotted outside the Bernabeu. Not sure what's in the bag. Fags and booze, maybe, or cured meat.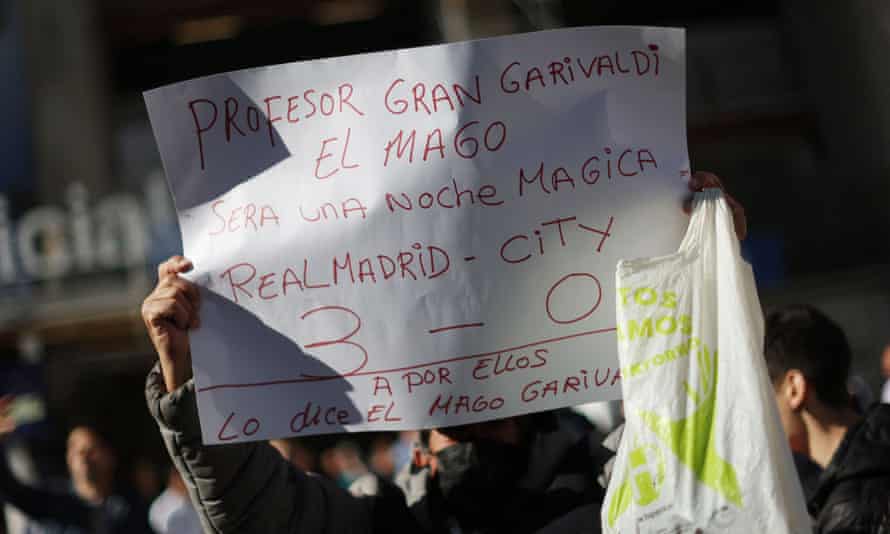 Pre-match reading.
History is on City's side tonight. Real Madrid have a long history in Europe, but have never come from behind to win a semi-final in the Champions League or European Cup after losing the first leg, whether home or away. They're zero for eight, having failed to turn things around against Manchester United (1968), Ajax (1973), Bayern Munich (1987, 2001 and 2012), Barcelona (2011), Borussia Dortmund (2013) and Juventus (2015).
Real Madrid make two changes to the XI selected to start last week in Manchester. Nacho and Casemiro take the places of David Alaba and Rodrygo, who are named tonight as substitutes.
Manchester City also make two changes to their first-leg starting XI. Kyle Walker is back from an ankle injury, while Joao Cancelo returns from suspension. John Stones is injured, while Oleksandar Zinchenko drops to the bench.
Real Madrid: Courtois, Carvajal, Eder Militao, Nacho, Mendy, Modric, Casemiro, Kroos, Valverde, Benzema, Vinicius Junior.
Subs: Alaba, Vallejo, Asensio, Marcelo, Lunin, Jovic, Lucas, Ceballos, Rodrygo, Mariano, Camavinga, Fuidias.
Manchester City: Ederson, Walker, Dias, Laporte, Joao Cancelo, Bernardo Silva, Rodri, De Bruyne, Mahrez, Gabriel Jesus, Foden.
Subs: Ake, Sterling, Gundogan, Grealish, Zinchenko, Steffen, Fernandinho, Carson, Egan-Riley, Palmer, McAtee, Lavia.
Referee: Daniele Orsato (Italy).
Last week, this happened …
More please! Kick off is at 8pm BST. It's on!